Arion Bank provides retail customers with high-quality and diverse financial services, wherever and whenever it suits them. Most customers choose to do their banking via the app, online banking and other digital channels, while others prefer to visit the Bank in person or to contact our call centre. Vörður Insurance and Stefnir are subsidiaries of the Bank and the close partnerships within the Arion Bank Group enable our customers to obtain a comprehensive range of financial services at our branches and other digital channels. Arion Bank is deeply committed to environmental issues and we offer green products such as green deposits, green funds, green car loans and green mortgages. The Bank operates 13 branches and a call centre.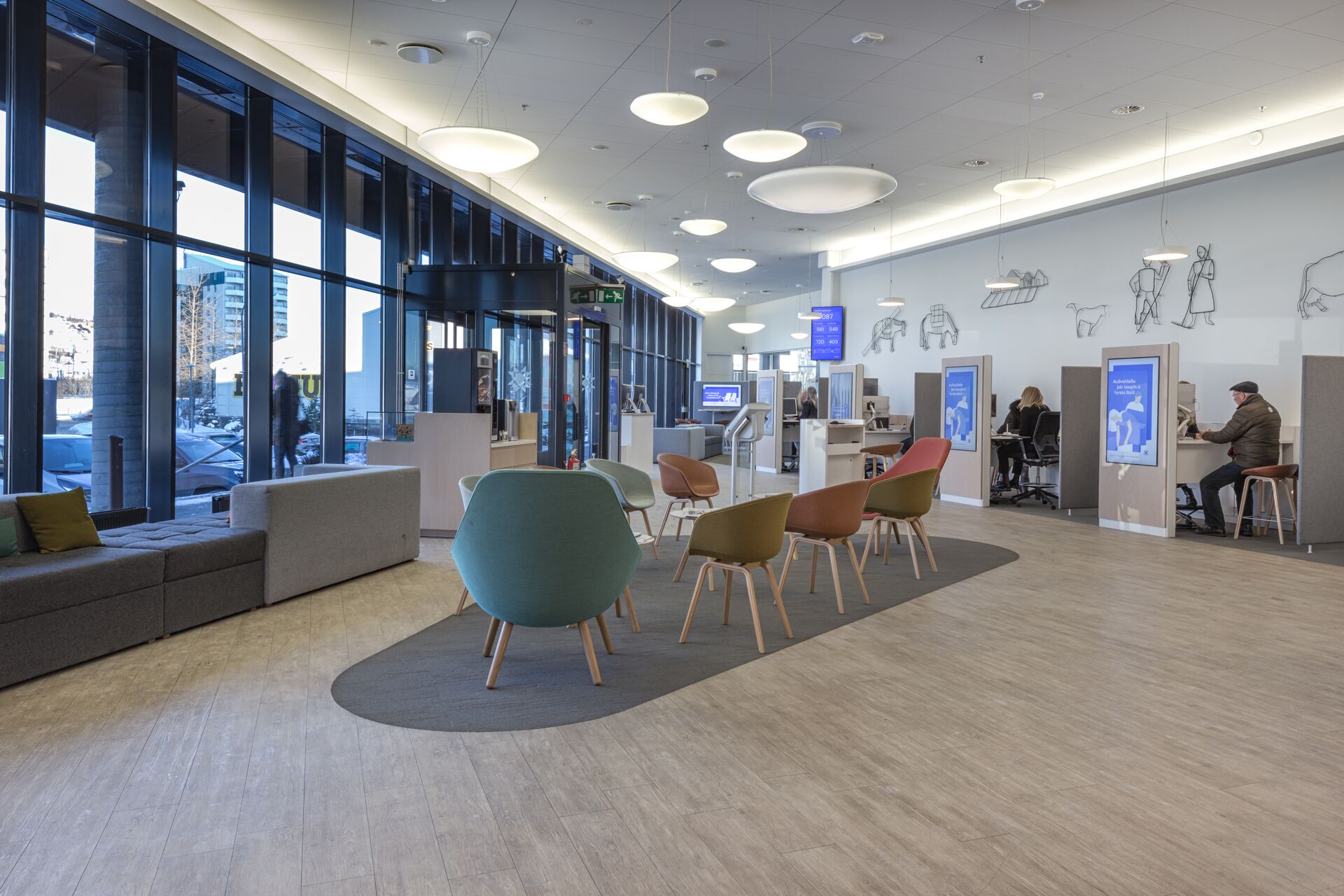 Convenient banking
Retail banking services have undergone immense change in a relatively short period of time. Today our services are mostly automated and it's no longer necessary to visit a branch unless there is special reason to do so, and it's always possible to set up a meeting on Teams if people want to save themselves the trip. Indeed, more than 99% of transactions carried out by retail customers are now done via the app or online banking. This has resulted in significant time savings for customers.
Arion Bank has in place procedures on responsible product management, where the emphasis is on protecting customers' interests when developing the Bank's products and ensuring that customers receive goods and services which are suitable for them. These procedures underwent continuous development during the year and it is the Bank's ambition to excel when it comes to product management.
The Bank has expanded its range of products, offering comprehensive financial solutions for retail customers, whether in banking, insurance or investments, such as funds or pension products. At the same time employee training has been stepped up to enable our team to provide customers with a clear overview of all aspects of the services and products on offer and to improve the service quality. The role of the branches is increasingly to help customers with major decisions and to give them a clear overview of their finances.
The majority, or 70%, of the Bank's sales are via digital channels. International studies show that Arion Bank is among the best performing banks globally in this respect. Once again the Arion app was voted the best banking app in Iceland in a survey by MMR of bank customers, the sixth year in a row.
Arion Premía is a service designed for our most active and highest volume customers. The aim of Arion Premía is to ensure that this group, which has substantial deposits at the Bank and/or securities in the Bank's custody, always gets the best available terms and service. During the year Premía welcomed many new customers and this new service has proven to be a big hit.
Indexed mortgages
on the increase again
There was huge demand for mortgages again in 2022, with total lending amounting to ISK 150 billion compared with ISK 211 billion the previous year. Lending remained fairly constant throughout the year, although there was a wave of applications for re-financing after the public real estate valuations for 2023 were published. Applications for indexed mortgages have increased, representing about 50% of applications, compared with 20% the previous year.
Innovation is important to Arion Bank's mortgages team and several new products were launched during the year. These included loans for summer homes with interest rates similar to mortgage rates. This enables customers to use the automated mortgage process which greatly reduces paperwork and lending costs, and allows the Bank to offer better interest rates. During the year we also offered loans to Premía customers who wanted to buy property to be rented out. These loans bear mortgage rates plus a premium.
E-commerce scaled new heights in 2022
Arion Bank offers a wide range of debit and credit cards which provide various benefits and travel insurance. Two new cards were added this year and they are exclusive to Premía customers. The Bank introduced Google Pay which replaced an older payment solution and enabled Android owners to use their phones to pay for things simply and securely. Another change was that debit cardholders under 23 no longer pay an annual fee or transaction fees when using their debit cards.
A new website for chargebacks was set up with Valitor, making it easier for customers to apply for refunds if they fall victim to fraudulent transactions. The website will significantly reduce the work involved and time required to resolve these issues and will generally improve service. In line with the rules on strong customer authentication which came into effect in the spring, card payments are now authenticated by cardholders in the Arion app or online banking instead of by entering an SMS code which was the system used for many years.
E-commerce scaled new heights this year and November was a record month in terms of online sales, accounting for more than 30% of total card transactions during the month. Although people are increasingly doing their Christmas shopping in November, December remained the month with the highest turnover during the year. The Arion Bank gift card has never been so popular, with more people than ever choosing to put one under the Christmas tree this year.
Continued growth of car loans
There was strong growth in car loans to retail customers for the third year in a row, and the car loan book has grown by 65% since the beginning of 2020. Arion Bank's market share in car loans has increased sharply over the last few years, a development partly attributable to the introduction of a digital application process and outstanding service. A key milestone was reached during the year when it became possible to register vehicles digitally, making the car loan process almost 100% digital, from application until the paying out of the loan.
Arion Bank invested in the company Frágangur during the year, an investment which will aid the Bank as we further develop the application process for car loans.
Car loans and hire purchase agreements
ISK bn.
83% of short-term loans approved automatically
Customer convenience is a key factor when making short-term loans such as overdrafts, consumer loans and credit cards. Today, 83% of such loans are granted automatically which is an all-time high. Customers therefore no longer need to wait for an answer as loans are approved instantly. These loans performed better than expected this year and have proven popular among customers. Defaults on short-term loans have not increased recently, despite the often challenging economic environment.
The Bank continued to enhance its services to Premía customers who now get the highest self-service limits available for short-term loans.
The Bank's digital journey continues and electronic signatures are now sufficient for all consumer loans, simplifying the process for customers and making it unnecessary for them to visit a branch to sign documents. This is especially helpful for people living in the countryside who often live some distance from their local branch.
The open banking partnership with Leiguskjól has been a great success, and Leiguskjól has now issued more than two thousand rental guarantees on behalf of the Bank. This is an excellent example of successful collaboration with a seed company, which is beneficial to the Bank, our customers and the seed company itself.
Insurance via Arion service channels
Customers can get insurance from Vörður through both Arion and Vörður service channels and this has generated excellent insurance sales. Customers can get an insurance quote both while visiting a branch of Arion Bank or via the Arion app. This a key component in the Bank's strategy of offering comprehensive financial services, creating an enhanced experience for customers of both Arion Bank and Vörður and allowing them a clear overview of their finances and insurance in a single app.
Deposits continue to grow
Central Bank policy rates rose sharply during the year, resulting in interest hikes at the commercial banks. The funding markets have been expensive and this fact, coupled with interest rate hikes, have intensified competition for deposits. In spite of this, there was a significant increase in the number of people getting paid into accounts at Arion Bank and retail deposits grew by almost 4%.
The strong focus on Green Deposits resulted in a surge in deposits into this account, a trend reflected in the Growth Demand account and the Growth 30 Day account.